Welcome to Christian Medical College Vellore
The Christian Medical College Vellore (CMC) is a large multi-specialty teaching hospital located in Tamil Nadu, India, about 140km to the west of Chennai. The Christian Medical College, Vellore seeks to be a witness to the healing ministry of Christ, through excellence in education, service and research.
The department of Haematology offers comprehensive services for all patients with hematological disorders. The department also has a state of the art molecular laboratory that aids the diagnosis and treatment of many different diseases. More details about the department are available at cmchaematology.org
The department of pathology offers a range of diagnostic services including histopathology, cytology, immunohistochemistry, FISH and molecular pathology and is an integral part of the diagnostic services at the Christian Medical College, Vellore, India. The department caters to all teaching related needs and trains undergraduate, post graduate and students from allied health sciences. The department is also active in research with several externally funded ongoing projects.
Upcoming Events
---
3rd Basic Course in Molecular Diagnostics
Date: 28th August to 08th September 2017
Venue: Haematology Department, Christian Medical College, Vellore-4.
Brochure click here!
---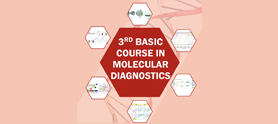 Application Form click here!